CORNHOLE TOURNAMENT
---
Hosted by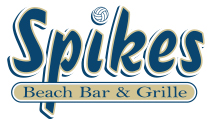 DATE:  Wednesday & Thursday, April 24 & 25

Division 1 plays Wednesday, April 24th
Division 2 plays Thursday, April 25th

DIVISIONS:  TBA

SITE:  Spikes Beach Bar & Grille, 2300 Judson St, Lincoln (Map)

TIME: 

Check In - 4:30 p.m.
Games will start at 5:30 p.m. Times and court assignments are only listed for the first set of games on each court.  Subsequent games will then be assigned, in order, to the next available court.

DURATION OF EVENT:  Teams that continue to win should expect to play past 10 p.m.

ROSTER LIMIT:  Teams consist of 2 participants.  Companies may have up to 4 open teams.
ELIGIBILITY: 
All players must be regular employees (full or part-time), interns or retirees of companies registered for the Nebraska Corporate Games
NOTES:  
Alcoholic beverages will be available for purchase.

Games will be played first team to 21 (does not have to be exactly 21).

Double elimination tournament 
SPORT DIRECTOR

David Case - new14dave@yahoo.com
---