CORNHOLE TOURNAMENT
---
Hosted by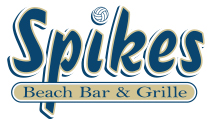 DATE:  Potential dates include April 23-24.  Dates will be finalized after all companies are registered and company sizes declared.

DIVISIONS: TBD
SITE:  Spikes Beach Bar & Grille, 2300 Judson St, Lincoln - View Map

TIME: 

Check In - 4:30 p.m.
Games will start at 5:30 p.m. Times and court assignments are only listed for the first set of games on each court.  Subsequent games will then be assigned, in order, to the next available court.

DURATION OF EVENT:  Teams that continue to win should expect to play past 10 p.m.

ROSTER LIMIT:  Teams consist of 2 participants.  Companies may have up to 4 open teams.
ELIGIBILITY: 
All players must be regular employees (full or part-time), interns or retirees of companies registered for the Nebraska Corporate Games
NOTES/RULES:  
Alcoholic beverages will be available for purchase and can be taken into the gym.

Use ACL rules unless otherwise noted by the Nebraska Corporate Games.

Can bring own bags as long as they are 6" x 6" and 15-16 oz and only filled with plastic resin.

Games will be played first team to 21 (does not have to be exactly 21).

Double elimination tournament 

Companies are allowed 4 Open teams consisting of 2 players each.

Teammates must stand on opposite sides.

Team listed second throws first.

Each player will throw 4 bags per inning, alternating each throw with the opponent.

Player's feet must remain behind the front of the board and upon the release of the bag.

The team that scores will throw first – if it's a tie the preceding team will throw again.

Bags cannot hit the ground first and roll onto the board. That bag will need to be removed before the next bag is tossed.
POINT SYSTEM:
Medals will be awarded to the top three pairs in each division. Points will be awarded to the top four pairs within each division, as follows:
| | |
| --- | --- |
| Place | Points |
| 1st | 500 |
| 2nd | 400 |
| 3rd | 300 |
| 4th | 200 |
Participation points will be awarded to all teams in the Nebraska Corporate Games. To receive participation points, teams must complete the event as designed. Points for participation in Doubles (per team) Competition are as follows:
| | |
| --- | --- |
| Event | Paticipation Points |
| Cornhole | 20/Team |
SPORT DIRECTOR:

David Case - new14dave@yahoo.com
---