TRIVIA CHALLENGE
---
SPONSORED BY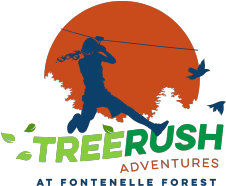 DATE:  Monday, November 2

SITE:  Trivia will be held virtually. You may participate wherever you'd like. 

TRIVIA LINK: https://zoom.us/j/568436598
ANSWER FORM (only one needed per company):
http://bit.ly/BarExamOnline

TIME: 
Check In - 6:30 p.m. 
Competition starts at 7 p.m.
HOW TO CHECK-IN:
The Nebraska Corporate Games check-in system has gone virtual as well, allowing for a contact-free option at all events. Use your smartphone to check-in with our event-specific QR codes. CLICK HERE for detailed information. Use this free website to open QR codes from your computer.

Make sure you have a QR Code reader downloaded on your smartphone.

QR Codes will be posted HERE when the event happens. 
MUST REMEMBER USER NAME AND PASSWORD TO CHECK-IN ON YOUR PHONE!

DURATION OF EVENT:  Approximately 2 hours

ROSTER LIMIT:  Teams consist of 10 participants.  Companies are allowed 1 open team.

ELIGIBILITY:  All players must be regular employees (full or part-time), interns or retirees of companies registered for the Nebraska Corporate Games

NOTES:  
Virtual Team Trivia will be played webinar-style over Zoom. Teams will need to create their own group chat using another method in order to communicate. Only one team member should access the answer sheet. A link and PIN will be provided to each company prior to the game.

You must use a secondary method to communicate with your virtual teammates during the event (conference call, texting, Facebook messenger, etc.).

Designate one person on your team to submit answers. Everyone on your team should watch the broadcast.

You will be given eight questions per round. In each round, you will have three minutes to confer with teammates on answers. When 30 seconds are remaining, a "30-Second Warning" will be displayed, and the questions will leave the screen.

Your mic and camera will be muted during the event.

There will be 8 rounds

There will visual and audio questions  

Every answer = 1 point

Standings will be shown at halftime and at the end of the game

Spelling doesn't count unless specified

All quizmaster/scorekeeper decisions are final

No cheating 

POINT SYSTEM:
Trivia will have medals for the top 3 company winners in each division. Points will be awarded to the top four teams in each division, as follows:
| | |
| --- | --- |
| Place | Points |
| 1st | 600 |
| 2nd | 500 |
| 3rd | 400 |
| 4th | 300 |
Participation points will be awarded to all teams in the Nebraska Corporate Games. To receive participation points, teams must complete the event as designed. Points for participation per team in Major Team Competition are as follows:
| | |
| --- | --- |
| Event | Participation Points |
| Trivia | 100 |
---